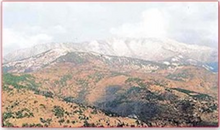 Geography-It lies 30º 52' north and 77º 32' east at an elevation 3647 m above msl
Climate-Pleasant climate during Summer, cold during winter
THE enchanting Churdhar mountain in Sirmaur is one of the Shivalik ranges at a height of 11965 feet (it is the highest peak in southern Himachal Pradesh), Churdhar, commonly known asChurichandni (Bangle of Snow), is blessed with some of the most spectacular and beautiful landscapes in this region. The view from the summit embraces a vast panorama of lowland tracts towards the south and snow-capped ranges, including the peaks of Badrinath and Kedarnath in the Garhwal region, towards the north.
          It is believed that this is the very place where Hanuman discovered the life-restoringSanjivini booti, which revived Lakshmana, LordRama's younger brother. Ruins of an ancient town have been discovered at the nearby Dundi Devi.
          A wealth of herbs and beautiful alpine flora cover these Himalayan slopes. Walking through the wildlife sanctuary, one spots the spectacular monal, Himachal's state bird, along with koklass and kaleej pheasants. The canine-toothed musk deer and the endangered Himalayan black bear inhabit the higher forests.
          Below the summit is the deodar-roofed, single-storeyed, square temple of Srigul with a lingam, dedicated to Shiva (Chooreshwar Mahadev). Pilgrims sing and dance at night during the Navratras fair in this ancient temple.
          Trekkers tread over small glaciers on their way to the wind-blown Churdhar summit, which has moderate to heavy snowfall (average of 33 feet snow). Often the Srigul temple gets buried under it.
On a clear sunny day, you can be rewarded with a view of the Badrinath and Kedarnath shrines, Gangetic plains, the Sutlej river and hills of Shimla and Chakrata. Atop the Churdhar summit lie the lingams of Shiva and Kali, where once goat and sheep were sacrificed. Devotees hoist flags and make offerings here. 
How to reach there-Peak can be approached form Dadahu, headquarter of Renuka tehsil, via Sangrah, Bhawai, Gandhuri and Naura, the distance being about 48 Km. by a bridle path. Another and easier  approach  to the peak is by the Solan Rajgarh Menus road.